Of all the beloved red-carpet beauty looks, we'd argue that a smoky eye is perhaps the most admired. While not everyone feels comfortable wearing a bold lip or a bright cheek, a sultry, smoked-out lid can make even the most reluctant makeup wearer feel more confident. Classic in nature, smoky eyes shift to trend territory when color is involved. The shade we love right now? Gunmetal gray. Less harsh than black, but still traditional, these charcoal hues appear modern and elegant. When applied correctly—and paired with the proper lip color (more on that below)—the end result is timeless with a twist. Follow these steps to steal a look that's equally suited for a romantic dinner or a Hollywood afterparty.
Step 1:
After hydrating your skin (try Advanced Night Repair serum and Advanced Night Repair Eye Supercharged Complex) begin by focusing on your eyes. Start by using a black eyeliner (we recommend Double Wear Eye Pencil in Onyx) to rim your entire lashline. Next, to add a gray smoulder to the top lids, trace your upper lashlines with Double Wear Eye Pencil in Smoke. As you reach the outer corners, the key is to make the line thicker, then use a small brush and blend it immediately to create a base for your eyeshadow.
Step 2:
To prevent raccoon eyes, try a shimmery brown shadow that won't appear too dark. We love the Pure Color Envy Sculpting Eyeshadow 5-Color Palette in Ivory Power. Dab the medium brown color in the center of your lids and then use the light gray shade to blend it up into your creases. This creates dimension and reflects light.
Step 3:
The goal is for your eyes to appear sexy and smudged. Pick up your Double Wear Eye Pencil in Onyx once more and trace along the bottom lids only. The smudger tool on the other side of the pencil is an easy way to blend it. Finally, using your small brush a second time, apply the darkest shade from the shadow palette starting at the center of the bottom lid, diffusing outward. Complete the look with black mascara.
Step 4:
The trick to balancing a smoky eye is to pair it with a feminine pink lip. It helps soften the overall look. Try a swipe of a pink-nude shade like our Pure Color Envy Sculpting Lipstick in Impulsive. The super creamy formula glides on effortlessly and feels sensually soft and smooth.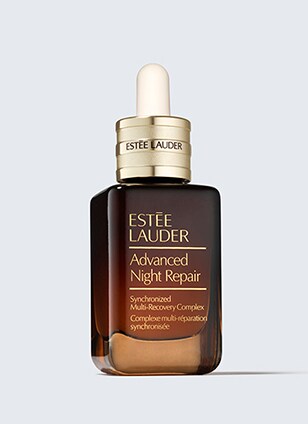 BEST SELLER
Our #1 serum to powerfully fight the look of multiple signs of aging.